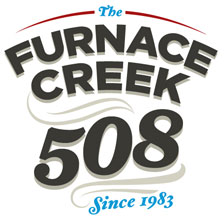 On October 2-4, Bruce Gungle, a long-time supporter and friend of the Coalition for Sonoran Desert Protection and Sky Island Alliance (SIA), will be competing solo in the Furnace Creek 508 bike race, for "Team Coonhound" (http://the508.com/). The total distance is 508 miles, to be covered within 48 hours. The course goes from Santa Clarita, north of Los Angeles, CA, through Mojave and Trona into Panamint Valley, over Townes Pass and into Death Valley. The race finishes in Twenty-nine Palms. Team Coonhound includes Sky Island Alliance stellar IT support, Juan Rascon and Sergio Avila, SIA's Northern Mexico Program Manager, as crew.
Team Coonhound is raising funds to support the work of the Coalition for Sonoran Desert Protection and Sky Island Alliance. They are asking for you to contribute whatever is significant for you. The fundraising goal is $4000, to be split equally between both organizations; Bruce has contributed $100 already. They encourage folks to pledge a certain amount per mile completed in the race (i.e., $0.25/mile = $25 should we manage 100 miles; $50 should we manage 200 miles; $100 should we manage 400 miles; or $127 should we manage to complete the entire 508 miles in the allowed time of 48 hours).
(Please note, this link will take you away from the Coalition website, but you will return after completing the pledge form.)
After the race is over we'll send out another email letting everyone know how it went and how to make good on your pledge.
For those of you who make a pledge, a donation, or are just interested in the race, crew members will be posting periodic updates on the progress of the race that can be followed on CSDP and SIA Facebook pages.
Thanks for your support!
About our organizations:
For 12 years the Coalition for Sonoran Desert Protection has been hard at work ensuring that sound science and planning are brought to the table as Pima County implements and develops the Sonoran Desert Conservation Plan. The Sonoran Desert Conservation Plan is a multi-faceted plan designed to steer commercial and residential development into less biologically sensitive areas and to preserve the more biologically sensitive parts of the County. In particular, the Coalition has ensured that this plan is based on the best available science rather than economics or politics, and has been incredibly effective at doing so.
Sky Island Alliance works to protect and restore the native species and habitats of the sky island region in southeastern Arizona, southwestern New Mexico and the adjacent Mexican states of Sonora and Chihuahua. Sky Island Alliance works to document the presence and movement of wild cats, to understand their needs of core habitat and corridors, and to ensure that safe monitoring techniques are used to achieve these ends (http://www.skyislandalliance.org/jaguars.htm ). The Bring Back the Cats! Campaign was initiated by a couple of donors who feel, as Team Coonhound does, that it's important to ensure that jaguars and ocelots once again roam our mountains and our imaginations here in the U.S.
(Please note, this link will take you away from the Coalition website, but you will return after completing the pledge form.)